There are some solutions for users who cannot find games or apps on NoxPlayer.
First of all, NoxPlayer provides two places for users to find and download games and apps – "App Center" & "Google Play Store". If you do not know how to find and download games and apps, please click here to find the solutions for this question. If you cannot find the games or apps that you want in the App Center, we recommend you to visit "Play Store".
In other cases, you may experience no searching result situation for the following reasons:
1. Different Android version
First, please search the name of the game (App) in this format "XXXXX + Google Play" with Google via Browser to get more information about this game (App)
2. Scroll down to view the Requires Android in the Additional Information of the game (App)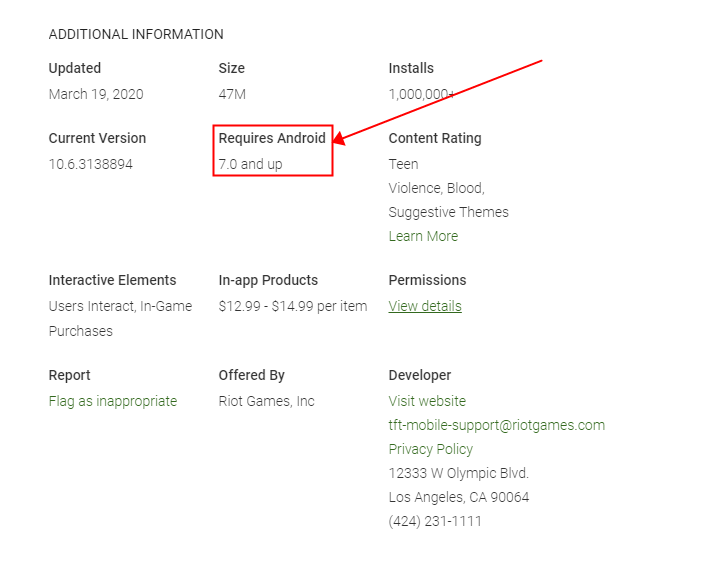 3. Check the current Android version of NoxPlayer that you are using. Make sure the required Android version is the same or higher than the Android version that you are using to avoid the No searching results situation. Click here to learn how to create a different Android version of NoxPlayer.
2. 64-bit Games
In most cases, mobile games are developed for 32-bit devices, however, there are a few cases that some games only support the 64-bit device. As an Android emulator, NoxPlayer is developed as 32-bit software, therefore, there will be no searching results in the build-in Goole Play Store. If you cannot find the game in the build-in Goole Play Store, please make sure whether it is a 64-bit game. You can download the Beta version of the 64-bit NoxPlayer to play the game.
Please kindly note: with NoxPlayer of the version higher than 7015, you could simply solve this issue when encountering 1. different Android version or 2. different bit version by creating a new instance in multi-instance. For a detailed guide, check here.
So to resolve this, you could simply add a new 64-bit instance in Multi-Drive.
Also, remember to clear your Google Play cache
Go to Tools >> Settings >> Scroll down and find Apps >> Find Google Play Store >> Click on Storage >> Clear data and clear cache
3. Game not available in your Region
Please first make sure that this game is available in your country.
If not, you could download this game from Google Play using a region-restricted Google account + VPN connection. For example, if you want to play a mobile game that's only available in Japan, you need to log in to your Japanese Google Account first, then choose a Japanese route in your VPN.
4. Install the Game using APK
Check this tutorial to learn how to install a game using APK