Many users may not know about the "System Settings" or even do not know where to find the "System Settings" on NoxPlayer. This tutorial will give you a brief introduction to the "System Settings".
Click the icon on the upper right of NoxPlayer to open "System Settings"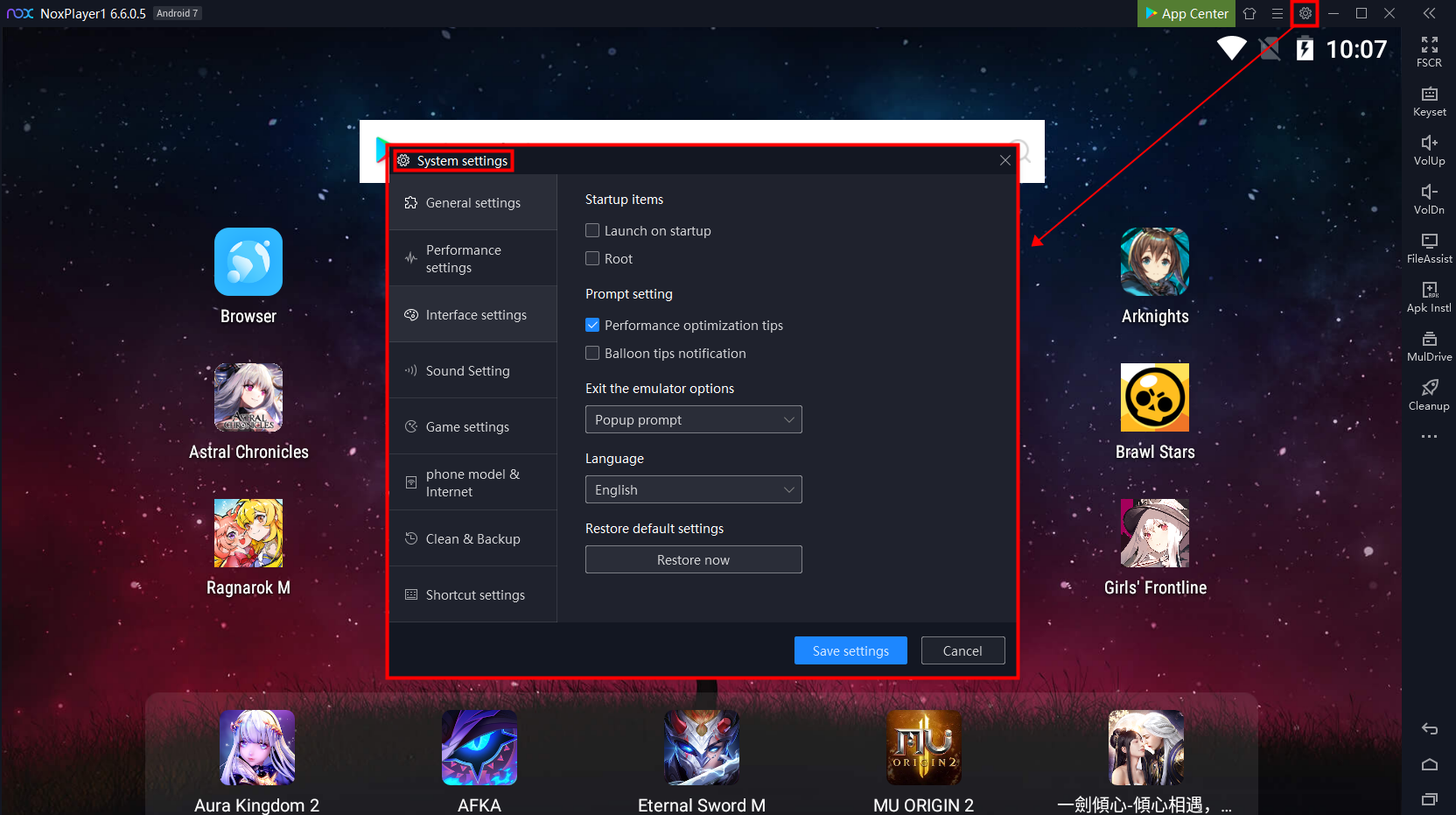 1. General settings
1> Startup items
Check the box of "Launch on startup" to allow NoxPlayer to start automatically.
Check the box of "Root" to root the device. Please noted that rooted device may not run properly for some games. Please check the box based on your own condition.
2> Prompt setting
Check the box of "Performance optimization tips" to receive tips from NoxPlayer.
Check the box of "Ballon tips notification" to allow NoxPlayer to display Ballon tips notification.
3> Exit the emulator options
Choose the different methods to exit NoxPlayer.
4> Language
Change the language of NoxPlayer.
5> Restore default settings
Click to restore default settings of NoxPlayer
2. Performance settings
1> Performance settings
Set the number of CPU and Memory of NoxPlayer to get better performance. Please note that if your computer cannot reach the settings that you set, it could cause some problems.
2> Graphic rendering mode
You can change the Graphic rendering mode. Please note that we recommend our users to use OpenGL+
3> Resolution setting
You can change the resolution of NoxPlayer and restore window size.
3. Interface settings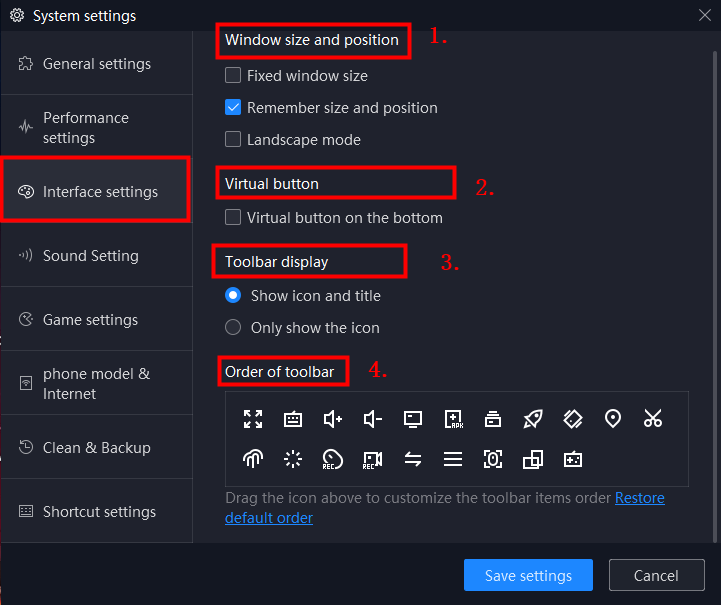 1> Window size and position
Check the boxes to adjust the window size and position of NoxPlayer
2> Virtual button
Click to display the virtual button
3> Toolbar display
Click to change the display order of the Toolbar
4. Sound setting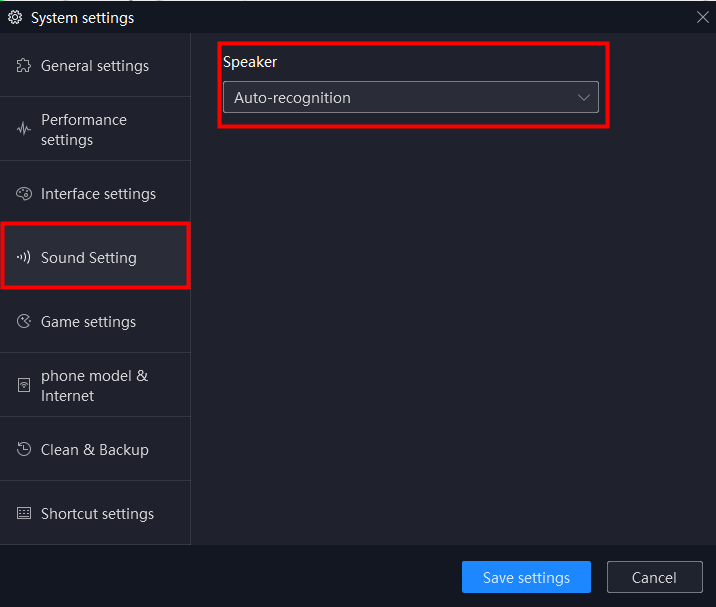 Click to select the speakers on your computer
5. Game settings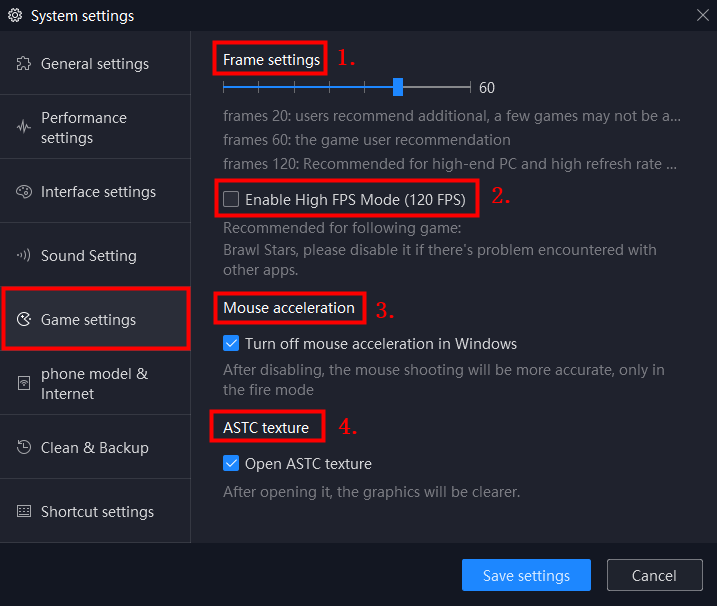 1> Frame settings
Drag to adjust the frame of NoxPlayer
2> Enable High FPS Mode(120 FPS)
Click to enable 120 FPS for some particular games such as Brawl Star etc.
3> Mouse acceleration
Check the box to turn off the mouse acceleration in Windows.
4> ASTC texture
Click to open ASTC texture. The graphic could be clearer for some particular games.
6. Phone model & Internet
1> Mobile phone model
Select the phone model that you like for NoxPlayer.
2> IMEI
Create the IMEI number for NoxPlayer
3> Mobile phone number
Create the phone number for NoxPlayer
4> Network settings
Check the box to turn on the network connection
Check the box to enable network bridge mode
7. Clean & Backup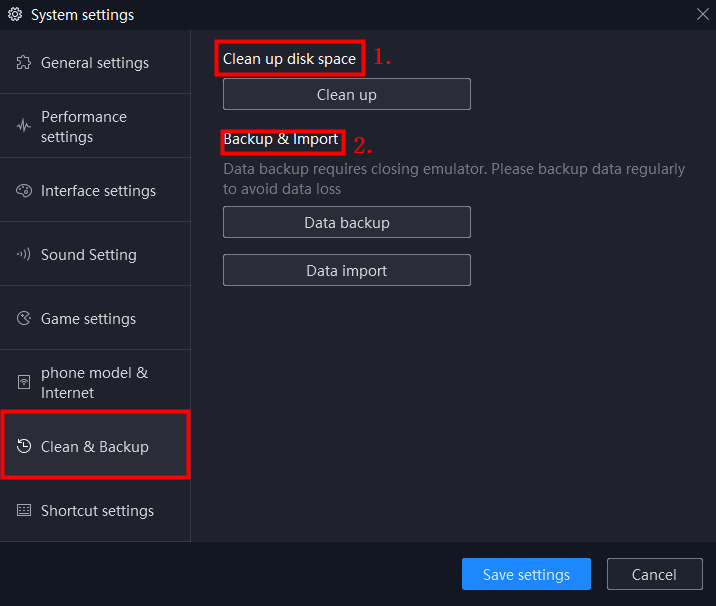 1> Clean up disk space
Click to clean up the disk space.
2> Backup & Import
Click to backup and import data of NoxPlayer
8. Shortcut settings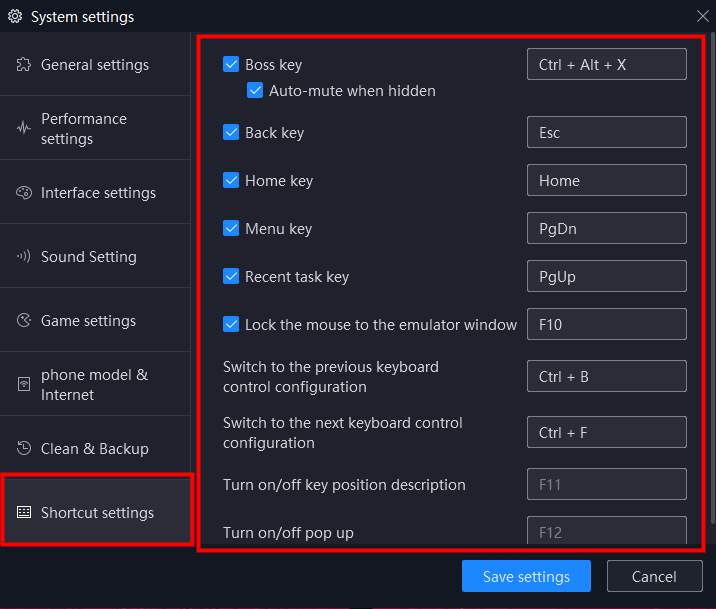 Click to view and change the shortcut keys for your best interest.