When do you need different Android versions?
1. The game requires a higher Android version( only Android 6.0 or above can be downloaded)
2.Game stability: Android 5 is more stable than Android 7
3. Upgrade the latest ROM version: play fixed games & enjoy new features
What are the differences among different versions?
Android 4: suitable for low-end computers, but some games with higher Android version requirements are no longer supported. If the game requires higher Android versions, you can't search or download on Google Play.
Android 5: Best game compatibility, suitable for most users
Android 7: Suitable for games that require a higher version. If you cannot find the game in the Google Store in the above two versions, you can try to use this version to play the game.
How to Add a new emulator?
Click Mul-drive on the toolbar
Click the icon as the following picture to choose the Andr

oi

d version or directly click 【Add emulator】
Run the new emulator
Note: when you directly add an emulator, the Android version of the new emulator will be in accordance with your original emulator by default.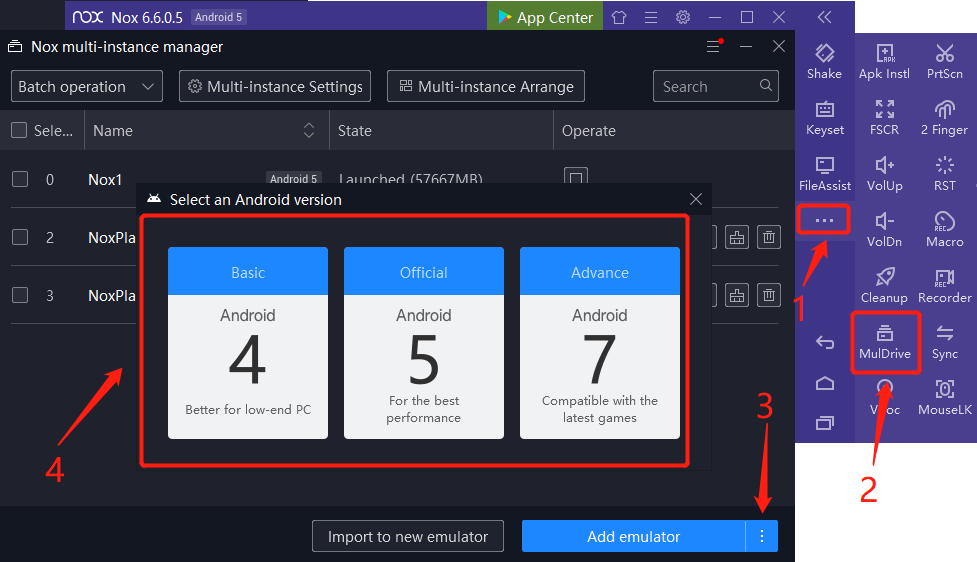 Note: Since version 6.6.1.1, the emulator will not support creating a new multi-instance of Android 4 anymore, which only supports to create a multi-instance of Android 5 and Android 7. For old users, you can still find your original Android 4 in Multi-drive or Nox multi-instance manager.
How to upgrade the Android ROM?
Click Multi-drive on the toolbar
Click Settings→Android Update
Upgrade the Rom if you are not the latest Rom